Published 11/24/2022, 11:00 AM EST
Before his return to the wrestling ring after the pandemic era, Brock Lesnar was no one other than a beast who could put down anyone. His entire character revolved around the fact that he was big and monstrous. That was also the image he had in the UFC, but at least there, we got to listen to him threaten his opponents. In WWE, there was always Paul Heyman to carry his mic skills for him.
ADVERTISEMENT
Article continues below this ad
But now that Lesnar is alone and in his cowboy character, he has become a fan-favorite again. While this doesn't surprise anyone, when Vince McMahon was able to let go of his reins over Lesnar, he became a natural babyface.
ADVERTISEMENT
Article continues below this ad
DIVE DEEPER
While this was happening, we also saw Lesnar being much more human than his character 5 years ago. And this rare video is just another example of it.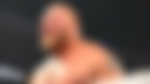 In a video posted by a fan on Twitter, we can see that Lesnar is praising the Paul brothers, Logan, and Jake, on their work and admits following them as well.
Brock Lesnar praises the Paul brothers in a rare video and fans lose it on Twitter
After a fan uploaded the video of Brock Lesnar praising the Paul brothers, the internet broke.
Ever since the cowboy character entered WWE, there has been a growing interest in Brock Lesnar. Before, he was only a monster to be scared of, but now he's a monster who smiles one second and pummels you the other.
Well, the Paul brothers should definitely bring this up in their podcasts and interviews. It is a flex to be praised by the most fearsome men on the planet.
Being praised by such an accomplished athlete and celebrity is nothing to scoff at, and this might be the biggest praise in the Paul brothers' lives.
This is a snide roast on Jake as lately he has only been fighting retired and 40+ athletes in the boxing ring. But if he challenges Lesnar to a match, the Beast will literally give his bones back to him. But it would make for a great wrestling storyline as well.
Brock Lesnar vs Logan Paul does scream out WrestleMania-worthy star power. Triple H should take note of this as soon as he can.
While everyone may chuckle at this tweet, they know that if this happened, they would also hug the piece of chicken for life.
While he isn't the most proactive when it comes to connecting with fans, Lesnar is just like any other person who likes to scroll social media. The more surprising thing is his admitting that he follows them.
ADVERTISEMENT
Article continues below this ad
With so many changes happening in the ring and outside it, Lesnar praising the Paul Brothers seems a little strange as well.
ADVERTISEMENT
Article continues below this ad
WATCH THIS STORY: Brock Lesnar's Carnage in WWE
Tell us what you feel about Lesnar praising Jake and Logan Paul in the comments below.