Published 11/08/2022, 9:32 AM EST
The UFC 281 main event, Adesanya vs Pereira, has already attracted a lot of traction before their eventful matchup on Nov. 12. The defending champion, Israel Adesanya, remained adamant about his forgotten psychological scar. Further, Adesanya vowed to not repeat the same mistake another champion, Conor McGregor, made in his fight against 'The Eagle'.
ADVERTISEMENT
Article continues below this ad
In a recent interview with MMA Hour, Israel Adesanya talked about his Undertaker walk at UFC 276, his reasons for leaving kickboxing, and the upcoming fight against his boogeyman, Alex Pereira. In the same segment, Adesanya drew a parallel with the biggest-selling PPV fight in UFC history.
ADVERTISEMENT
Article continues below this ad
What did Israel Adesanya say?
The Nigerian fighter explained to Ariel Helwani that the Irishman used the wrong strategy. Further, 'The Last Stylebender' stated, "If he [Conor McGregor] had attacked that a little bit differently because he was the closest to beating Khabib as well."
"There was a lot of energy wasted leading up to the fight," Adesanya added later on.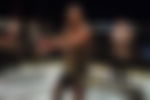 ABU DHABI, UNITED ARAB EMIRATES – SEPTEMBER 27: Israel Adesanya of Nigeria celebrates after defeating Paulo Costa of Brazil in their middleweight championship bout during UFC 253 inside Flash Forum on UFC Fight Island on September 27, 2020 in Abu Dhabi, United Arab Emirates. (Photo by Josh Hedges/Zuffa LLC)
The middleweight champion pointed out that Conor McGregor wasted a lot of energy leading up to the fight at UFC 229. Following this, he also admitted it was just an observation on his part. Subsequently, he recognized that wasting energy going after 'Poatan' was stupid.
As time and again reiterated by Adesanya, he, later on, mentioned that the past fights between them never annoyed him. He also stated the reason behind his two successive losses against the Brazilian fighter in 2016 and 2017. The middleweight fighter declared that not staying to his fighting style cost him both fights.
Lastly, the 33-year-old fighter declared that he almost ran out of money. He also detailed his contractual situation at the time.
Watch This Story: 5 times Israel Adesanya obliterated his opponents inside the Octagon
The build-up to the trilogy fight between both fighters has been fierce. And this raging verbal back-and-forth exchange will only grow in quantum.
The recent exchange between Pereira and Adesanya
ADVERTISEMENT
Article continues below this ad
The UFC champion recently in a conversation with Yahoo Sports' Kevin Iole expressed his reservations about 'Poatan'. While stating that the Brazilian had yet to make a complete transition to a full-fledged MMA fighter, he also pointed out that the former Glory champion had an easy shot at the title.
Also, 'The Last Stylebender' declared that he had plans to expose the challenger at UFC 281 at one of the biggest world stages, Madison Square Garden. As a result, Pereira followed up with a video that alluded that the same fate awaited the champion as Sean Strickland.
ADVERTISEMENT
Article continues below this ad
It would be interesting to see whether the Sao Paulo fighter would again derail the UFC champion.
What do you think of these comments by Isreal Adesanya? Let us know in the comments below.