Published 11/08/2022, 8:00 AM EST
The self-proclaimed CEO of The Ancestral Lifestyle, Liver King, had his name spouted by multiple UFC fighters. The influencer's beef with Conor McGregor and Joe Rogan put him in the UFC news lately. Although some approved of the carnivore diet promoted by Liver King, many fighters found it absolutely disgusting. 
ADVERTISEMENT
Article continues below this ad
Recently, a video was shared on YouTube where a supposed beef between the UFC fighter Sean O'Malley and Liver King was displayed, as the rapper 6ix9ine interviewed Johnson. Fans had a lot to say on that note.
ADVERTISEMENT
Article continues below this ad
Fans reacted to Liver King eating Sean O'Malley's share of liver
Earlier, Sean 'Sugar' O'Malley met with Brian Johnson, popularly known as the Liver King. Johnson has earned his fame by showcasing the ancestral lifestyle and eating raw meat on social media platforms. However, when the Viking shared a piece of liver with O'Malley, the fighter couldn't take it in and spat it out. Surprisingly, Liver King swooped the discarded liver and ate it.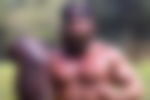 "Sugar Sean and I shared a piece of liver. He ate a piece and then he spit a piece out. Then I took the piece that he spit out and I ate it", claimed Johnson in an interview with 6ix9ine. The rapper replied that he would have done the same.
However, fans had different thoughts about the video. 
Here's what fans had to say:
That's gross bruh
Bro if Sean spit on the floor I would do the same thing
How did liver king end up associated with so many UFC fighters?
I would spit it out too 1. Piece then walk away. 
Is that supposed to be impressive
His liver is so good how come you're balding
Liver king has to be the most annoying steroid user in existence
I would do the same thing 
why would he say he'd do the same thing that's actually so random
Liver King had beef with UFC personalities like Conor McGregor and Joe Rogan
Brian Johnson has interacted with many UFC personalities. He has captured the news following his beef with Conor McGregor, Joe Rogan, and even Hasbulla Magomedov. In a video, Johnson was seen eating raw meat and bone, while holding McGregor's Proper No. 12 whiskey. The TikTok star called out the Irish fighter saying, "If you're game to try, by all means, practice what you preach @thenotoriousmma … until then, you can call me Liver King." All this was intended as a reply to a comment on McGregor's tweet, "At this point ur tryna be liver king."
View this post on Instagram
A post shared by Liver King (@liverking)
The influencer's truck with the UFC commentator and podcaster, Joe Rogan, has circulated the internet, as well. Rogan claimed that Johnson was on steroids for having such a jacked physique. "Do you know how rare it is to have a physique like that and not be on steroids?", claimed the commentator. Although Liver King denied all accusations, the beef went on. 
ADVERTISEMENT
Article continues below this ad
Furthermore, Liver King displeased Hasbulla Magomedov, too. During UFC 280, Johnson kneeled on one knee for a picture with 'Mini Khabib'. However, Magomedov took it differently. He was heard saying, "I'd rather take a picture with a dog."
Johnson has positioned himself in UFC news lately. His beefs with the personalities along with his appearances with fighters, like Paulo Costa and 'Sugar', have put him in the limelight. However, it is established that most of the UFC world doesn't like the Liver King. 
ADVERTISEMENT
Article continues below this ad
Watch This Story: Conor McGregor: Emotional Moments
What are your views on the raw meat enthusiast? Let us know in the comments below.