Published 11/17/2022, 9:17 AM EST
Conor McGregor is a big name in the UFC world. However, his rankings have gone down lately. Renato 'Money' Moicano has now taken over the netizens' hearts with his spectacular win against Brad Riddell in UFC 281. The lightweight fighter has then gone up in the rankings. After confirming his rank, the fighter went to Twitter and voiced his desire to fight 'The Notorious'.
ADVERTISEMENT
Article continues below this ad
Moreover, Moicano's fight with McGregor is anticipated by fighters like Matt Brown, as well. Nonetheless, with the victory with a submission, Moicano's wishes to get ranked have come true.
ADVERTISEMENT
Article continues below this ad
Renato Moicano wants to fight Conor McGregor
John Morgan recently tweeted about Renato Moicano getting the 13th rank in the UFC lightweight rankings. He wrote, "Renato "Money" Moicano (@moicanoufc) gets his wish, debuts at No. 13 in the latest UFC lightweight rankings. Recently added Grant Dawson slides off the list to make room for the addition." Furthermore, he wrote, "Conor McGregor is now No. 14, and Tony Ferguson is No. 15."
Moicano responded to John Morgan's tweet saying, "That's crazy" as Morgan shared the list when 'Money' couldn't believe he was in the rankings. 
Then, he posted a tweet revealing his interest in going against 'The Notorious'. He wrote, "Guest what… I'm going after big mouth-Gregor [Conor McGregor] next." 
Surprisingly, even Matt Brown confirmed that he'd love to Moicano and McGregor in the Octagon. He wrote, "Moicano vs Conor I would pay to see."
Renato Moicano's victory in UFC 281
UFC 281 indeed offered matches that left the audience in awe. Such was the case with Moicano's bout against Brad Riddell. Although the two displayed stunning skills, only one had to be crowned a victor. The 33-year-old Brazilian showcased his mesmerizing combination of attacks as he kept pressure with his jabs and kicks.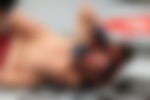 BRASILIA, BRAZIL – MARCH 14: (R-L) Renato Moicano of Brazil secures a rear choke submission against Damir Hadzovic of Bosnia in their lightweight fight during the UFC Fight Night event on March 14, 2020 in Brasilia, Brazil. (Photo by Buda Mendes/Zuffa LLC)
The fight quickly turned bloody as Riddell's face was cut open. Finally, 'Money' had 'Quake' in a rear-neck choke. The New Zealander had no choice but to submit in the first round itself. Following his victory, 'Money' called Joe Rogan the smartest person on the planet. He said, "You are the smartest person on the planet. I watch your show all day." Then, he declared his desire to take over.
ADVERTISEMENT
Article continues below this ad
DIVE DEEPER
Although the victory secured him the 13th position, him going higher than Tony Ferguson and Conor McGregor indeed came as a shock. Moicano followed this by challenging the former double champion. Nonetheless, 'Money' going against a buffed-up McGregor would be an entirely different story. 
ADVERTISEMENT
Article continues below this ad
Watch This Story: Conor McGregor: Thug Life Moments in UFC
What are your thoughts on the recent UFC lightweight rankings? Let us know in the comments down below.