Published 11/11/2022, 6:00 AM EST
Brock Lesnar has made a career out of proving people wrong and achieving great success. He faced one of his biggest challenges when he made the jump from pro wrestling to MMA. After Lesnar left the WWE in 2004, he tried his luck at a few other things before finding his calling in MMA. He signed with UFC and was ready to take on the challenge of going up against some of the best fighters in the octagon.
ADVERTISEMENT
Article continues below this ad
Even though he lost his first fight after a closely fought battle, he won his next match and he soon even got a shot at the heavyweight title, which he eventually won. This led to some uproar among the fans who were rooting against the former WWE Champion from the start.
ADVERTISEMENT
Article continues below this ad
In his autobiography, Lesnar narrated that when he went into his big title match against UFC icon Randy Couture, the fans were constantly booing him. He said they didn't want a pro wrestler to beat one of UFC's top fighters. The Beast said it was similar to how the fans booed him during his heel run in WWE.
Brock Lesnar said UFC fans didn't want him to win against Couture
Many people met Brock Lesnar's move to UFC from WWE with a lot of skepticism and doubt. Some labeled him as only a pro wrestler looking to get his time in the limelight with the UFC. And others thought he wouldn't last long. However, The Beast Incarnate' proved his naysayers wrong and had a successful MMA career.
He made his UFC debut against one of the best fighters, Frank Mir. After an explosive start by Lesnar, Mir prevailed due to his experience and got the win. At this point, a few people started writing off Lesnar's chances in MMA. But in his second fight, he defeated Heath Herring via a unanimous decision. This led to UFC giving him a Heavyweight title shot against Randy Couture at UFC 91.
DIVE DEEPER
Lesnar emerged victorious in the fight in the second round via TKO and became the UFC Heavyweight Champion. In his autobiography, Death Clutch, Lesnar explained how during the event UFC fans were booing him, as they didn't want to see a pro wrestler beat up a UFC fighter.
ADVERTISEMENT
Article continues below this ad
He wrote, "As I stepped into the Octagon that night, the entire arena was booing me with a passion. It reminded me of my days as a heel in WWE. UFC fans did not want to see their hero crushed by a "fake" WWE professional wrestler."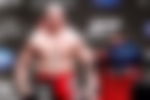 He further added that the fans wanted to see him gone from UFC and back to WWE. Lesnar wrote, "They wanted to see Randy show me that I didn't belong, beat my as*, and ship me back to Vince McMahon's doorstep in a box."
ADVERTISEMENT
Article continues below this ad
Lesnar was unfazed by the booing of the fans before his big match. Perhaps his experience in WWE as a heel helped him to negate that to some extent. After his win over Couture, he avenged his defeat against Frank Mir and beat him at UFC 100 and then beat Shane Carwin as well. The Beast arrived in UFC as a rookie and left it as a Conqueror.
Watch This Story: Brock Lesnar The Rock and more youngest winners in WWE Royal Rumble history