Published 11/03/2022, 11:00 AM EDT
Hasbulla Magomedov is one of the most noted current faces in the UFC. Hasbulla isn't a fighter but has gone on to acquire a huge fanbase even outside the UFC. The 20-year-old Dagestani boy reportedly has a disorder in his growth hormones, somewhat similar to 'Dwarfism'. Hasbulla is an internet celebrity and boasts a whopping 4.6 M Instagram followers and more than 6 billion TikTok video views. In a recent video on Twitter, Khabib and Islam Makhachev's friend, was seen showing his distaste towards the Liver King Brian Johnson.
ADVERTISEMENT
Article continues below this ad
Liver King kneeled on one knee for a picture of the little Hasbulla calling him out. However, Hasbulla didn't seem very pleased about it, as he chose to walk away from Johnson without caring for a snap.
ADVERTISEMENT
Article continues below this ad
Hasbulla thought dogs to be better than Liver King
The video showcased Liver King in his traditional 'bare-chested' attire. He went on to say, "I'm the Liver King, don't forget that. I'm coming for you". The crowd encircling them giggled at the Liver King's words.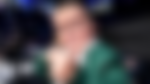 These words came for Hasbulla, who evidently didn't take them well.
Islam Makhachev's neighbor chose to walk out of the camera frames of the people encircling the two. He also demonstrated his disdain for Liver King while leaving. Hasbulla was heard speaking a few words in his native tongue as he left. He said, "I'd rather take a picture with a dog".
Hasbulla's hate towards Liver King was quite apparent. However, the reason for it can be debated. It might be Johnson's callout that got Hasbulla offended.
Joe Rogan and Conor McGregor also mocked previously Liver King
The UFC color commentator Joe Rogan had previously gone on to state that the Liver King "is on steroids". Looking at Johnson's physique, Rogan found it hard to believe that he had achieved it without steroids. On an episode of his noted podcast, The Joe Rogan Experience, he stated, "Do you know how rare it is to have a physique like that and not be on steroids?". 
ADVERTISEMENT
Article continues below this ad
UFC's open of the most coveted ones, 'The Notorious' Conor McGregor also chose to deride Liver King. A reply from one of the fans on McGregor's tweeted snap read, "At this point ur tryna be liver king". 'Mystic Mac' was unwilling to accept any comparison of himself with Liver King.
Watch this Story – Conor McGregor: Emotional moments
ADVERTISEMENT
Article continues below this ad
He provided a befitting reply to the fan in a now-deleted tweet, which read, "Who? I eat the liver with shots, not forks. Ball of the foot, heel of the foot, fist, elbow, you name it. Even the butt of the head on the sly I dig them in. Production sees nothin till highlights, and even then only the next day. Motherf***er I destroy liver. I'm King, period."
It's apparent that a majority of the UFC world doesn't like Liver King, Brian Johnson. What are your views? How do you feel about the Liver King?