Published 10/18/2022, 8:30 AM EDT
Joe Rogan is inarguably one of the most noted faces in the entire UFC. He is also a seasoned comedian and a former TV host. His tenure with the UFC as the 'color commentator' has gained him even more recognition and fans in the entire world.
ADVERTISEMENT
Article continues below this ad
Rogan also hosts his own podcast named 'The Joe Rogan Experience' where he discusses issues ranging from the fight game to politics, entertainment, and much more. On one such episode of 'JRE' in 2017, Rogan was joined by the noted singer and songwriter, Maynard James Keenan.
ADVERTISEMENT
Article continues below this ad
The duo went on to watch and discuss the pre-fight conference of the famed 'Floyd Mayweather vs Conor McGregor' boxing bout that took place in 2017. Keenan didn't have much knowledge about the huge 'money' fight. The 'JRE' host educated Keenan after showing him the video of the pre-fight conference of the Mayweather-McGregor showdown.
Conor McGregor: Rogan was visibly pleased by the press conference
Rogan also urged Keenan to have a look at the pre-fight press conference of the bout. He said, "All you wanna see is Conor talking. … Conor's hilarious man. He's fu**ing hilarious, and he was laughing and having a great time." He also iterated, "Floyd seemed a little rattled".
Going on, Rogan asked for the video to be played as the two immersed themselves in the pre-fight press conference of the Mayweather-McGregor showdown.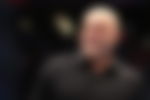 PHOENIX, ARIZONA – MAY 07: Ultimate Fighting Championship color commentator, Joe Rogan during UFC 274 at Footprint Center on May 07, 2022 in Phoenix, Arizona. (Photo by Christian Petersen/Getty Images)
McGregor appeared in the video as he mentioned, "He is f**ked. There's no other way about it. His little legs, his little car, his little hip, I'm gonna knock him out inside four rounds, mark my words".
His signature trash-talking was heard for the first time outside a UFC event. McGregor left the mic with some words of humility as he said, "Let's get this one to start. Let's have fun. Thank you so much, everybody. I appreciate it."
Rogan, who had already watched the video, explained the course of the video to Keenan saying, "Now watch when him and Floyd Mayweather get in front of each other. … Floyd looked really stupid". Joe Rogan was clearly vouching for McGregor, at least in the press conference video.
Floyd Mayweather's rant on the mic
Mayweather stepped up and took the mic after McGregor. He mentioned, "Let me show you motherf***ers what a 100 million dollar fighter looks like". He displayed his pay cheque for this fight with pride.
McGregor humiliated him saying, "That's into tax man." McGregor, speaking in between Mayweather's speech, led to the organizers cutting off his mic. 'Money' Mayweather continued, "And I can guarantee you this you're going on your face or you're going on your back. Now which way you wanna go?"
McGregor's mic was cut off and hence he couldn't reply. 'Money' took the opportunity and mentioned, "That's right, sit quiet you little bi*ch. All you need to do is show up, you show up and I'll do the rest".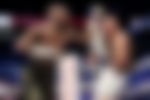 LAS VEGAS, NV – AUGUST 26: (L-R) Floyd Mayweather Jr. throws a punch at Conor McGregor during their super welterweight boxing match on August 26, 2017 at T-Mobile Arena in Las Vegas, Nevada. (Photo by Christian Petersen/Getty Images)
'Mystic Mac' yelled, "I'm here right now". 'Money' asked, "You wanna get it right now?" as the duo went to a staredown-like position.
The two continued the banter as McGregor spoke things like, "Look in my eye. I'm gonna bounce your head off the canvas. One shot is all it takes me.", "Four rounds and you're unconscious." and "If this was a real fight, you're dead already. If this was a real fight, you're dead in twenty seconds".
Mayweather had his own disses towards McGregor. He said, "You ain't makin' it out of the first round. Keep talking." and "Easy Work. Easy Work"
Rogan's breakdown of the pre-bout conference video
Rogan laughed as the video ended. He imitated McGregor and said, "Does your hands hurt when it gets cold? ". He also informed that Mayweather has had a bunch of hand surgeries.
ADVERTISEMENT
Article continues below this ad
Keenan doubted Mayweather's chances in front of Conor McGregor saying, "I dont know enough of boxing, all I can look at from a distance is Floyd's older, he's slightly smaller."
Rogan went on to describe why Mayweather was a heavier choice on paper, "The thing with Floyd is, you can have an idea of what you're gonna do to him till you get inside the ring with him and then you realize how good he is." Rogan also said, "He's just a wizard man when it comes to boxing".
Watch this Story – UFC world in total 'denial' of 'sad' Joe Rogan news
ADVERTISEMENT
Article continues below this ad
The 'JRE' host also described how McGregor's trash-talking would play mind games with Mayweather as he said, "He's got a guy telling him, I can kill you easy".
Probably every MMA and boxing fan knows that McGregor was knocked out by Mayweather in the 10th round of this bout. But Conor McGregor earned the respect of fight fans due to the fact that he displayed the courage to step out of the Octagon and lock horns with one of the greatest boxers of all time.