Published 11/08/2022, 5:00 PM EET
Fans have seen different phases in Conor McGregor throughout his UFC career. The Notorious debuted as a featherweight and took their entire company by storm when he KO'd the long-reigning champion, Jose Aldo, in just 13 seconds at UFC 194 in December 2015. McGregor instantly became the biggest name in the company.
ADVERTISEMENT
Article continues below this ad
After achieving megastar status, The UFC offered McGregor to fight the then Lightweight champion, Eddie Alvarez, at UFC 205 in 2016. The event was UFC's first-ever show in New York, moreover, in the grandest arena of MSG. Nevertheless, McGregor's ability to rise in the bright lights was on full display when he disseminated the underground king. Moreover, delivered his career-best performance to this day.
ADVERTISEMENT
Article continues below this ad
Meanwhile, the Irishman even made sporadic appearances in the welterweight division, most notably in both of the Nate Diaz fights. Although he looked a bit slow to the fans, however, he proved all doubters wrong when he ran through Donald Cerrone, during his return fight to welterweight at UFC 246.
Showcasing his entire UFC journey, McGregor had put a collage of himself in the three weight divisions he's competed in. However, the last was a more recent photo where 170lbs was in question.
Conor McGregor displayed his entire UFC weight journey through an internet post
In a recent Instagram post, the former UFC champion uploaded a picture where fans could see his entire transformation from featherweight to welterweight. The post is a three-picture collage with McGregor flexing his muscles in all three of them. 
View this post on Instagram
A post shared by Conor McGregor Official (@thenotoriousmma)
So did it indicate anything? Many fans believe that the post is also indicative of The Irishman confirming his move to welterweight whenever he returns to the Octagon.
Fans reacting to McGregor's IG post.
Fans were quick to jump into the comments section and display their thoughts on the post.
A fan was in awe of McGregor's physique "My man is a jacked. Oh, my!"
Meanwhile, another fan asked the Irishman if he was changing professions, "So you are a bodybuilder now?"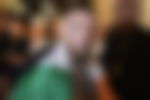 LAS VEGAS, NEVADA – JULY 10: Conor McGregor of Ireland prepares to fight Dustin Poirier during the UFC 264 event at T-Mobile Arena on July 10, 2021 in Las Vegas, Nevada. (Photo by Chris Unger/Zuffa LLC)
Another fan mentioned bodybuilding: "all roads lead to bodybuilding. The only sacred"
A McGregor fan called him the king, "The king is back 👑"
Furthermore, a fan compared him to Mike Tyson, "The ideal male form. Looking like an Irish Tyson"
A user took notice of his leg, "The Damn leg gain is insane!!!! Miss you fighting Conor !!"
ADVERTISEMENT
Article continues below this ad
Nevertheless, a fan mentioned the notorious' prime at 145, "He was at his best at 145 and steroid free"
It excited a fan to know McGregor is making a comeback, "Tree division champion. Mystic Mac is back for the throne."
Meanwhile, a user answered the question in the post, "Definitely not 170"
ADVERTISEMENT
Article continues below this ad
What do you think about McGregor considering a comeback at 170lbs? Let us know.
WATCH THIS STORY: Conor McGregor: Thug Life Moments in The UFC