Published 11/08/2022, 1:45 PM EST
Brock Lesnar broke down many barriers and overcame many obstacles to become one of the best combat athletes of this generation. A former amateur wrestler, perhaps his biggest challenge, came when he transitioned to MMA from WWE.
ADVERTISEMENT
Article continues below this ad
Fighters from other combat sports often came to WWE to try their luck. But it was rare to see someone go the other way. In fact, his decision to join the UFC was met with skepticism and doubts from MMA fans. But for Lesnar, he had a point to prove and did exactly that. In his autobiography, The Beast narrated how his move to UFC was a win-win situation for all parties involved, including the WWE.
ADVERTISEMENT
Article continues below this ad
A lot of MMA fans saw Lesnar as just another pro wrestler who wanted to lash on the growing popularity of UFC. But what many forget, that he was a NCAA Champion and a legitimate fighter.
After his brief stint in the NFL, Lesnar was eager to make a mark in MMA and convinced UFC president Dana White to give him a shot. According to the former WWE Champion, UFC had nothing to lose from giving him a chance to fight for them.
Brock Lesnar said his UFC deal was a win-win proposition
Brock Lesnar deciding to swap the squared circle for the octagon was a massive career risk by 'The Beast Incarnate'. After leaving WWE, Lesnar had tried his luck in a few other ventures but didn't find the success he craved. His UFC move was a high-profile one and a chance to prove himself all over again.
When Lesnar eventually arrived in UFC, there was a lot of hype around him. An ex-pro-wrestler trying his luck in the real world of MMA had the fans excited on both sides. The Beast Incarnate narrated in his autobiography, 'Death Clutch', that he convinced Dana White to sign him and UFC couldn't really lose in the deal.
DIVE DEEPER
ADVERTISEMENT
Article continues below this ad
He stated that fans of both UFC and WWE will pay to see him fight in the octagon. Lesnar wrote, "If I win, the UFC has the golden goose. If I lose, someone else is going to become a star at my expense. Either way, my fight will draw money. MMA fans will pay to see me get my a** kicked. WWE fans will pay to see one of their own take on the best the UFC has to offer. There was no downside to the idea."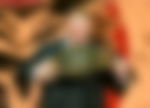 LAS VEGAS, NEVADA – OCTOBER 11: WWE champion Brock Lesnar is introduced at a WWE news conference at T-Mobile Arena on October 11, 2019 in Las Vegas, Nevada. Lesnar will face former UFC heavyweight champion Cain Velasquez and WWE wrestler Braun Strowman will take on heavyweight boxer Tyson Fury at the WWE's Crown Jewel event at Fahd International Stadium in Riyadh, Saudi Arabia on October 31. (Photo by Ethan Miller/Getty Images)
This eventually proved to be correct over the years. Brock Lesnar became one of UFC's biggest draws and answered his doubters by winning the Heavyweight Championship in just his third fight in the promotion. The Conqueror brought his WWE fandom with him to UFC and became a popular star. For WWE fans, it was exciting to see a pro wrestler go toe-to-toe with some of the best MMA fighters.
ADVERTISEMENT
Article continues below this ad
His return to WWE in 2012 further added to his popularity, as many MMA fans tuned in to see him wrestle. Brock Lesnar's decision to go to UFC eventually proved to be profitable for the MMA promotion and WWE, as he enjoys a massive crossover appeal to this day.
Watch This Story: Stone Cold Steve Austin to Brock Lesnar WWE superstars that crushed their opponents bones