Published 11/24/2022, 10:00 AM EST
Conor McGregor is definitely one of the most renowned names in the field of MMA. The UFC star has gone on to become one of the most coveted names in the entire sports world. However, his fight with Khabib Nurmagomedov was one of the major fallbacks of his UFC career. The fight ended with Nurmagomedov submitting McGregor and then a furious all-out brawl breaking out between the entire teams of the two fighters. UFC 229 is still the most viewed UFC pay-per-view event to date.
ADVERTISEMENT
Article continues below this ad
The event started off a probable never-ending feud involving McGregor and Nurmagomedov, which hasn't been settled to date. Recently, McGregor took to Twitter and shared a video of an illegal knee shot that he landed on Nurmagomedov's head while he was being controlled by 'The Eagle' on the ground.
ADVERTISEMENT
Article continues below this ad
Conor McGregor even had a name for his illegal shot
McGregor's tweeted video showcased him in a lower position on the ground while Nurmagomedov was on the control. Although 'The Eagle' had kept the upper part of McGregor's body completely pinned on the ground, still, the knees of 'Mystic Mac' were absolutely free. Nurmagomedov had approached too close to McGregor's knee.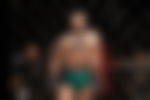 LAS VEGAS, NV – DECEMBER 12: Conor McGregor enters the Octagon for his featherweight title fight against Jose Aldo during UFC 194 at MGM Grand Garden Arena on December 12, 2015 in Las Vegas, Nevada. (Photo by Steve Marcus/Getty Images)
Sighting this chance, 'The Notorious' didn't mind stepping out of the rulebook and landed a hard knee on Nurmagomedov's head. He also captioned his post with the name he coined for this illegal shot. The caption read, "The springbok knee."
McGregor also went on to describe in a tweet what exactly inspired the name of this strike from McGregor.
He wrote, "I call this knee strike "the springbok" Remember reebok? Ye well this is springbok. You ever see a springbok jump? Well just have a look at that knee springbok into this eye sock hahahaja I'm the goat of unseen shots. That's without question. God bless the dead."
Actually, 'Springbok' is a species of deer which are known for its sudden leaps in the air while running. McGregor also put out another tweet showing an actual springbok.
He probably tried to imply that his 'springbok' shots are as unpredictable as the jump of a springbok.
McGregor had also boasted about this illegal shot in a two-year-old tweet. He had written, "The knee into the eye socket was illegal yes, from this position. A beauty tho [sic]. Never before seen shot. Like many of my shots. I use the mount defence leg as a spring board, loading the knee below it. Release and straight to the eye socket. Smashed it in! Joe Rogan. Hey Dana."
McGregor had also tried to legalize Springbok strikes
'The Notorious' didn't have to go through any penalty even after Nurmagomedov complained to the referee about his illegal strike. McGregor has also placed a request before the noted referee, John McCarthy, in order to know whether the referee favors the legalization of these strikes or not.
ADVERTISEMENT
Article continues below this ad
His plea to McCarthy read, "This strike should not be illegal. Should actually be enshrined! Look at him cower his head after it and keep it tucked. Kept honest! Guy is latched onto my arm not letting go. Everything bar biting and gouging should be permitted here."
He also wrote, "Are we fighting or what are we doing here? [Referee] John McCarthy what do you think Big John? Should this strike be legalized? Your pal, Mr. tasty shots."
Watch this Story – Who is Conor Mcgregor's fiance Dee Devlin?
ADVERTISEMENT
Article continues below this ad
Despite McGregor's efforts, the strike still stands as an illegal one in the sport of MMA. Do you think McGregor's Springbok knee strikes should be made legal in MMA?