Published 10/29/2022, 10:00 PM EEST
Jake Paul and Anderson Silva will face each other on Oct. 29 in Phoenix. This might turn out to be the biggest challenge for 'The Problem Child'. While Paul holds a perfect boxing record, he faces one of the biggest knockout artists in MMA history. However, the Youtuber-turned-prizefighter sent in an aggressive message to the 'Spider' during their last face-off. Paul's aggressive performance didn't escape the keen of another UFC star, Paulo Costa.
ADVERTISEMENT
Article continues below this ad
Subsequently, the Brazilian fighter sought the adult actress Kendra Lust's opinion on the same.
ADVERTISEMENT
Article continues below this ad
How did Kendra Lust react to Paulo Costa's question?
'Borrachinha' boasts a claim to an interesting social media account that keeps the fans entertained. Besides hot takes, self-proclaimed 'The Meme God' justifies his title by constantly posting similar content. Therefore, justifying the Brazilian's long list of admirers.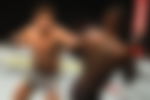 ABU DHABI, UNITED ARAB EMIRATES – SEPTEMBER 27: (L-R) Paulo Costa of Brazil punches Israel Adesanya of Nigeria in their middleweight championship bout during UFC 253 inside Flash Forum on UFC Fight Island on September 27, 2020 in Abu Dhabi, United Arab Emirates. (Photo by Josh Hedges/Zuffa LLC)
The combat sports fans have their eyes glued in anticipation of the Jake Paul vs Anderson Silva fight. Similarly, Paulo Costa is keeping a check on the developments, and Jake Paul's confident and aggressive message caught the attention of the middleweight fighter.
Afterward, Paulo Costa asked the adult actress Kendra Lust about the same. Hence, he wrote, "Hey @KendraLust come here a lil bit, how do you rate our boy? Good performance?"
However, the adult actress appeared flustered at this question. Thus, she replied, "😳"
Significantly, this is not the first time the adult actress has found herself at the center of the MMA world's attention.
Jake Paul and Anderson Silva's final face-off
The 5-0 record holder gave a statement when he knocked the former UFC champion, Tyron Woodley, with a single punch in December last year. If anything else, this was an indication that Jake Paul was taking his boxing career seriously.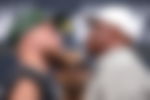 GLENDALE, ARIZONA – SEPTEMBER 13: Jake Paul and Anderson SIlva face off during a Jake Paul v Anderson Silva press conference at Gila River Arena on September 13, 2022 in Glendale, Arizona. (Photo by Christian Petersen/Getty Images)
In the final face-off before their eventful bout, Jake Paul hammered the 'Spider' with trash talk. Later, the 25-year-old internet sensation cleared the air about what he said to Anderson Silva.
ADVERTISEMENT
Article continues below this ad
"It's my generation. It's my time to be a legend. You gotta beat a legend, okay. It's time for war. I asked him if he's ready. It's been nice, nice, nice. It's been sweet, sweet, sweet. I respect that man but he's trying to take the food off my plate. He's trying to stop my run and tomorrow guess what Ariel? I'm f****g him up. I'm f***g him up. I'm f****g him up," Paul stated without reservation.
Jake Paul made a similar statement back in December last year. The result- Tyron Woodley with his face flat on the mat.
ADVERTISEMENT
Article continues below this ad
What do you think of Jake Paul's aggressive 'performance'? Do you think that he'll be able to replicate what he did in Tyron Woodley's fight? Let us know in the comments below.
Watch This Story: Everyone Jake Paul Trashed in His 'Dana White Diss Track'